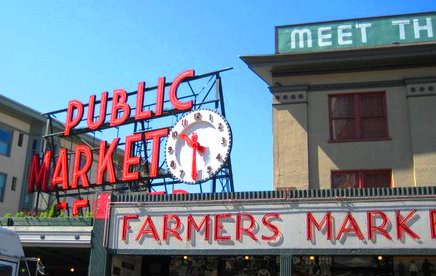 Where am I? Woke up Kirkland, WA with the sun shining bright and the temp at about late-70's. Not a cloud in the sky! Dragged my ass out of one of the most comfortable beds I've ever slept in around 7:30ish. Went for a run on the treadmill for half and hour… got in the shower, got dressed and went downstairs to greet my hosts! Tiff made me the worlds most expensive cappuccino!!! =)
Had a small bite to eat then Tom and I were off to downtown Seattle. Walked around the farmers market (saw the famous fish throwing place), did some shopping, walked the downtown area, and then we went down by the bay area. Met up with Tiff and Kim (Tom's assistants) to have lunch… yum yum Mexican food. From there, the girls and I went to run errands before my big night out with the boys and sushi. Made it an early night as we all had to be up at the crack of dawn… 4:30 am to be exact.
Saturday is finally here… after a month of planning Tom and his team can see the fruits of their labor. I had the best time there…. and felt very lucky to have been invited to the whole thing. The breakfast was with Stephan Winkelman, CEO, Manfried Fitzgerald, Director of Branding and Design, Dominik Hoberg, Director of Communications, Maurizio Reggiani, Director of R&D, and Pietro Frigerio, US President and COO. A ton of exotics filled the center court of Redmond Town Center early Saturday, May 30th morning. At 10 AM there was a caravan with four (4) police escorts and 40 exotics including the new Murcielago LP-670 SV and Gallardo LP-560 Roadster. From Redmond Town Center the police risked their lives zipping and zooming to get in front of the exotics pulling cars over so that all the exotics could stay together. The cars caravanned to Salish Lodge at Snoqualmie Falls. As if the cars weren't breathtaking enough, the backdrop had amazingly beautiful waterfalls.
After walking around the grounds and seeing all the cars everyone retired into Salish Lodge to have breakfast served buffet style. Meaning you didn't pay to attend and get just bagels, juice and toast. You served up a plate filled to brim if your heart desires.
The format was very casual…. starting out with Stephan Winkelmann, President and CEO talking about the history, current, and future of Lamborghini. After that, Stephan Winkelmann, Manfred Fitzgerald, and Maurizio Reggiani were put on the "HOT" seat. Q&A was open to all!!! And if I might say so… they handled all questions honestly and straight forward. There were definitely some interesting questions coming from the Ferrari table. But all in all, the entire management team did a great job connecting with not only the Lamborghini customers but ALL exotic car enthusiasts as well.
Immediately following the grilling and hot seat questions was a wrap-up where they all stayed to personally greet and take photos will anyone that wanted to… If anyone missed this event not to fear. Tom will be bringing this event to OC soon.