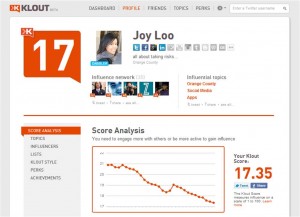 Isn't is typical in today's society… knowing a trade and doing it well enough to do it as a profession and never getting it done for yourself!
For those of you that don't know, I co-own an Internet marketing boutique agency.  I do social media and guerilla marketing and my partner does website development, essentially the techspert of Comatica.
I spend the majority of the day answering emails, fielding calls and depending on the client, monitoring their online presence, strategizing new online promotions and tying it together with offline guerilla marketing.
So with that said, there is no wonder why MY Klout score is low and my clients are high.  I came across an interesting article and will try some of these tactics to increase my score.  I wanted o share the six (6) ways to increase your Klout score.  Thanks to Aaron Lee for sharing.
6 UNOFFICIAL WAYS TO INCREASE YOUR KLOUT SCORE.
1. CREATE CONTENT WORTH SHARING
Easily said than done, what type of contents or tweets are worth sharing?
Niche tweets: Tweets regarding your niche. If you're a social media consultant, you could share tweets on social media such as tips, how-to's etc. Share something that people can benefit from your tweets.
Quotes from your niche: Quotes are great because people can easily relate to them. Two years ago, I shared tweets that get retweeted easily and one of them is quotes. The reason is because it is short and people can easily consume it compared to the links to a blog post.
Photos: A picture is worth thousand words, in this case, pictures get retweeted easily. Like quotes, it is easy to consume and the funnier the photo, the more it gets shared.
Share tips: Sharing tips is another great way to create contents that are content worthy. Be sure to keep that under 120 characters so people can retweet them with ease. One of my most retweeted tweets that has been retweet for more than a year is "retweet someone once, they will know you, retweet them a few times they will remember you"
2) START A DISCUSSION
Starting a discussion is tough, however when you have already built a community, you can start a discussion. One way you can increase your klout score is to have"feedbacks" from people or more "actions" taken upon your tweets. You can do so by posting tweets such as:
Questions regarding your niche: Ask questions or ask opinions and people will be more than happy to share their opinions with you. You can ask questions like, "What do you think the future of social media will look like?" or if you're in another niche, try asking them questions regarding to your niche.
Wishes: Some twitter users say that you shouldn't post tweets like "good morning" etc. I find that a bit ridiculous as it takes away the "human elements". I don't think there is any problem with posting such tweets. Usually every morning (In the US time), I'll send out tweets like "Have a beautiful day/weekend" or "wishing you have a wonderful day ahead". Tweets like these gets tons of feedback as people will thank you, and wish you have a wonderful day too.Join blog chats:
Blog chats: are a great way to connect with new people and start a discussion. I find blog chats really active and good to start new and meaningful conversations with others. There are weekly blogs chats that you can join and participate in.
3) CONNECT OTHER NETWORKS
Recently klout allows you to connect other networks such as Facebook, Youtube, Foursquare and other networks. I recently connected my foursquare despite only having less than 100 friends there and It helped me to increase my klout score (only a point). Klout mentioned that adding new networks will not decrease your klout score, so you should try to connect it too. I've friends that were able to increase their klout score by 3 points by adding only one addition network.Start a small community
4) BUILD A SMALL COMMUNITY
This is a great way to increase your klout score. The reason is because when you have a small community of your own, you'll be able to get retweets and drive conversations easily compare to just sharing RSS tweets which brings no value when you don't have a community to read them.
5) ENGAGE WITH INFLUENCERS
The last method is to engage with influencer users in your niche. Jump into their converastion, tweet them, respond to their tweet but make sure that its something that they can respond back too.
Robert Lavigne (@RLavigne42) tested this on twitter and he manage to increase his klout score from 13 to 44 in two weeks.
6) USE BUFFER
Last week at iStrategy, I discussed how using Buffer will increase your klout score, in summary, buffer helps you to optimize your tweet to send out during high traffic hour, therefore giving you more exposure and increasing "actions" such as responds, clicks, etc.
I'm looking forward to testing out these on my own score to see it increase.  Good luck and hope this helps.