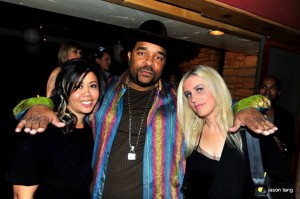 Saturday, November 13, 2010 was the video premiere of Sir Mix-Alot's latest song Carz. Ryan Porter of Jalopnik reports on scene.
Despite the tremendous rain that is not unusual for us Seattlelites the party was crazy. The rain didn't keep the exotics and various sport cars from showing up and Sir-Mix-a-Lot himself stood out in the rain personally greeting each and every guest.
Through the red-carpet and into the mad-house party there were plenty of drinks and people looking to have fun. The party was packed with people ranging from Ferrari 458 owners to the best auto detailers in the country.
It may sound crazy that I'd call out the auto-detailers, but the crew that gathered for this party, and that helped in the making of this video, are serious car people. Before the video rolled Sir-Mix-a-Lot played a slide show showing off some of his past cars that really put things in perspective.
He's owned over 24 exotics from a Slant-nose Gemballa Porsche to his current LP-640. Despite the loads of Ferrari's and Lambo's he's owned he didn't downplay his embarrassment at some of his past cars, including the candy-red Mercedes SEL with gold-accents that he copped after his first royalty-check.
After the brief stroll through his automotive rolodex he played the video and, I gotta say, I thought it was actually good. The video will premiere next week on Sir Mix-A-Lot's YouTube channel so you'll have to hang-tight to see. In the meantime, here are some more photos from the event.