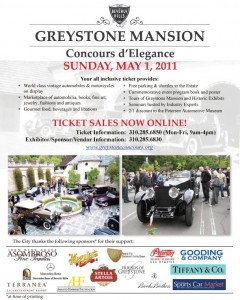 I had the pleasure of attending the 1st Greystone Mansion Concours d'Elegance event last year and it was a superb event at a breath taking setting.
The City of Beverly Hills and The Friends of Greystone are proud to announce the 2nd Annual Greystone Mansion Concours d'Elegance, which will take place May 1, 2011.
The event is to raise funds for the continuing restoration and preservation of the Greystone Estate, a nationally registered landmark and the former home of the Doheny Family, now under the ownership and care of the City of Beverly Hills.
The Concours will present approximately 150 of the most exceptional automobiles and motorcycles and will also provide access to the entirety of the estate's grounds, along with tours of the interior of the mansion, promising something for everyone in attendance.
The mansion, which is rarely open to the public, will also serve to present a marketplace of outstanding vendors, presenting wares ranging from automobilia to art and jewelry, all certain to find favor with the most discerning guests.
In addition, those in attendance also receive as part of their admission ticket, at no extra charge, a full complement of food, beverages and adult libations, an event program and poster, along with ongoing vintage fashion displays and musical entertainment present, as well as lectures by auto industry experts.
Automobile and motorcycle exhibitors also receive two admission tickets plus a delightful gift bag in appreciation of their participation in the event.
The success of the 2010 inaugural event, attended by approximately 2500 people, will be further enhanced at the 2011 event by expanded food and beverage courts; and, we again expect the finest of sponsors and vendors in the marketplace and what promises to be another world class concours field.
For 2011, media coverage will be provided by local television, radio and various media outlets, along with the addition this coming year of a media partnership with the outstanding publication, Sports Car Market Magazine. Present event sponsors also include Gooding & Co., The Petersen Automotive Museum, Brooks Brothers, Tiffany & Co. and the Armand Hammer Foundation.
Feel free to email me at joy@joyloo.me for information on sponsorship.  For general information regarding the Greystone Mansion & Estate, please visit our website at: www.beverlyhills.org/greystone